NEW listing alert!
The show begins at Sainsbury's
Monty Bojangles is many things. He's an inventive adventurer, an adventurous inventor, and a very humble chocolatier. He told us so himself.
But he's also a showman – and your local Sainsbury's is soon to be his stage.
Starting this week, select Sainsbury's stores will raise the curtain on a stunning new selection of Monty Bojangles goodies, sparkling with chocolate magic and with displays hand-selected by the top cat himself.
Of course, it's the chocolate that's the real star of the show here – and the new debuts won't disappoint, with our Magnificent 8 Luxury Belgian Chocolates taking a bow, and our Persian Pink Cat Tin filling the exciting role of our first ever cat tin to be stocked in a supermarket.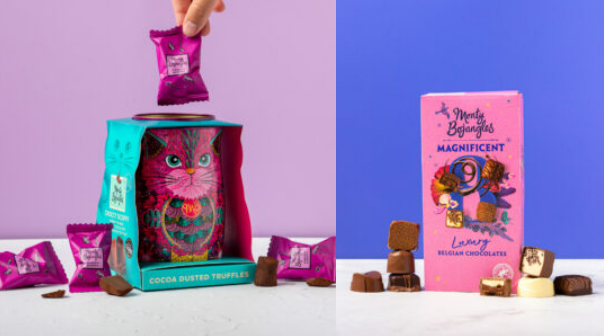 Of course, our core range remains…
Ensuring there's something for everyone in the audience – from the Choccy Scoffy Gift Box to our Truffle Selection Gift Box, our Belgian Flaked Truffle Gift Box to the perfectly present-able Gift Wrap Box.
If your tastebuds are applauding already, head down to your nearest Sainsbury's (or shop online below) to let the show begin.

Back to Blog