NEW Gift Wrap
Introducing our gorgeous new truffle assortment gift – an indulgent luxury present for all chocoholics, featuring a collection of intensely chocolatey cocoa dusted truffles to be discovered within a beautifully wrapped gift box.
An assortment of Chocolatey Truffles, including 4 Great Taste Award winning flavours: Choccy Scoffy, Orange Angelical, Popcorn Carousel and Flutter Scotch.
Box contains individually wrapped truffles to maintain freshness. A stunning gift for any friend or family, any time of the year. Suitable for Vegetarians.
We know you will adore exploring this perfect hand-wrapped chocolate gift.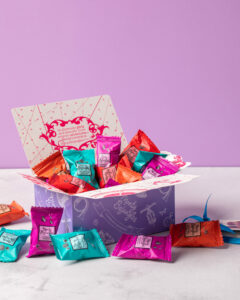 A gift you would be proud to gift!
Back to Blog