Monty Bojangles Wins 6 Great Taste Awards, and a 3 Star Award in 2020
The results are in and they are the most exciting yet! Not only have our truffles won 6 awards this year, our wonderful Coconut Crush won its first award, but also it won an amazing 3 Star Great Taste Award! Only 200 were awarded with over 12750 applications! This takes our total Great Taste Awards won to 38 across the last 7 years!
We are proud to declare ours are the tastiest chocolate truffles in the kingdom!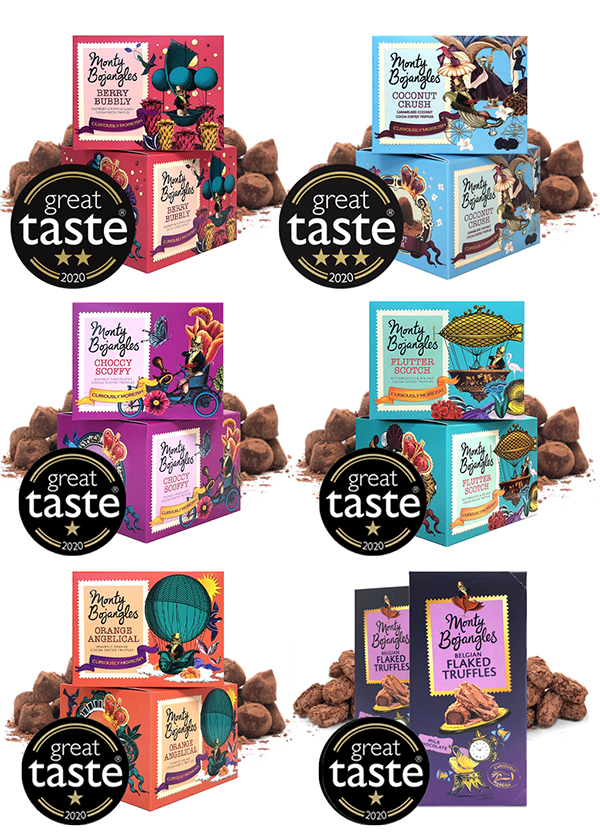 2020 Award Winners
3 Stars! Coconut Crush Cocoa Dusted Truffles
Tropically tantalizing chocolate and coconut bliss awards in our rich and heavenly Coconut Crush. The warming flavour of toasted coconut flakes is unforgettable!
"Great looking truffles, these cocoa-dusted, irregular mounds are a delightful surprise in the mouth. The cocoa powder sets the scene and the intensity of the dark chocolate and caramelisation of the coconut work a minor miracle on the tongue. The balance of flavours is well-pitched, the creamy coconut making its presence felt without ever trying to compete with the deep, rich, dark and creamy chocolate."

"Attractive, generously coated cocoa dusted truffles. A very appealing, natural, fresh cocoa aroma. The cocoa powder dusting complemented the rich, soft, creamy, silky filling. The caramelised coconut pieces added an interesting dimension to the overall flavour and texture. The chocolate was rich and bittersweet with a good level of acidity."

"Indulgent and rich looking truffle with a fresh coconut aroma. Initially a little dry on the palate, due to the powder coating. As the truffle melts, the bitter cocoa powder cuts through the caramelised sweet coconut notes. It really is very well balanced. The caramelised coconut added subtle texture and character."
2 Stars! Berry Bubbly Cocoa Dusted Truffles
A spectacular combination of tart raspberry flavour and delectably fun popping candy, all in a delicious chocolatey cocoa dusted truffle.
"The first sensation is of rich, creamy chocolate followed by the crunch of the popping candy and then, in comes the rasberry flavour. The cocoa dust holds the level of sweetness in just the right place and the popping adds an interesting dimension. The quality of this is overall quite outstanding."

"Very attractive dome shaped cocoa dusted truffles. A lovely flavour combination of deep rich cocoa and raspberry, with the addition of popping candy makes these chocolates very moreish. A good rich chocolate aroma. The texture was an interesting combination silkiness, softness and crunchiness."
1 Star! Choccy Scoffy Cocoa Dusted Truffles
The original rich & chocolatey cocoa dusted truffles coated with a generous dusting of exquisite bitter-sweet cocoa powder.
"What a perfect texture, with a delicate bite and easy melt delivering a rich long lasting chocolate flavour note for the palate, which just keeps on giving and has length. The chocolate is of good quality and gives both creamy milk and dark cacao taste experiences. A truffle that is clean, precise and exact."

"Fun little bundles of truffle. These melt quickly to reveal the rich, indulgent and intense chocolate centre that fills the mouth with satisfying flavours. Rich bitter/sweet cocoa notes, buttery and creamy flavours and a carefully judged level of sugar combine cleverly to produce a balanced and very satisfying chocolate treat."
1 Star! Flutter Scotch Cocoa Dusted Truffles
Divine cocoa dusted truffles with creamy Butterscotch chips and a cheeky hint of sea salt.
"Superb mouthfeel of soft, velvety chocolate which melts beautifully on the tongue. As you let them melt the butterscotch chips appear, delightfully crunchy. Nothing is overly sweet or saccharine – there is a great balance of bittersweet cocoa and butterscotch. The finish is long and full of butter notes. A very enjoyable chocolate."

"Rich, chocolatey, bite-sized, charmingly irregular truffle. Texturally it's really lovely to come across little shards of salty butterscotch in this incredibly smooth chocolate.
1 Star! Orange Angelical Cocoa Dusted Truffles
Beautifully zesty orange flavoured truffles with delicious candied orange peel within.
"What an enticing chocolate orange aroma! The texture has a medium light bite, allowing the chocolate to melt away, leaving the small candied orange pieces as a pleasing final texture. The cacao has a very good depth and natural bitterness which are well balanced by the sweet chocolate and candied orange. "

"Appealing dark and even colouring with a heady chocolate/orange fragrance. A super-rich truffle centre is filled with liberal pieces of orange peel to add contrast in texture and flavour. The cocoa richness is intense and very sweet."

"A rich and unctuous looking truffle with an equally rich aroma. The truffle melts in the mouth leaving the astring cocoa powder to yield to the buttery smooth centre. The candied orange pieces add character and texture to the truffle. A rustic looking truffle with a highly sophisticated flavour. Beautifully balanced in terms of sweet and bitter notes and the fresh tasting orange complements the chocolate."
1 Star! Belgian Milk Chocolate Flaked Truffles
A luxurious soft truffle centre with cool creamy flavour notes, enrobed in a thick layer of rich Belgian milk chocolate, and coated in large Belgian milk chocolate flakes.
"Attractively presented milk chocolate coated truffles. These truffles were well balanced with no bitter acidic dominating notes and not overly sweet. There was a good depth of flavour to the chocolate and a clean after-taste. The texture was quite firm, rich and creamy and dissolved gently in the mouth."

"Firm cut to a milk chocolate flakey pale brown exterior. The centre is firm but rich and creamy and well balanced – happily not overly sweet. As the whole breaks down in the mouth, the flakiness of the exterior melds comfortably with the thick creamy centre for a moreish chocolate hit."
Back to Blog