The Monty Bojangles Truffle Bar, Reigate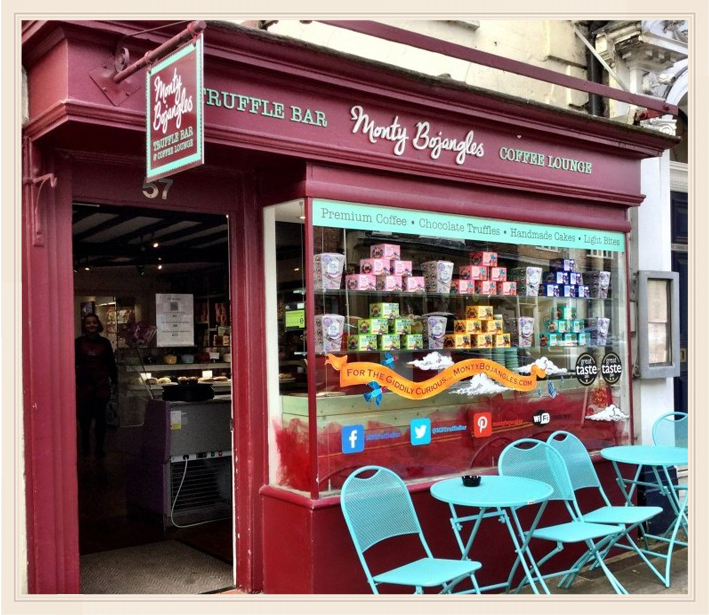 The most indulgent coffee shop in Reigate!
Introducing the Monty Bojangles Truffle Bar coffee shop in Reigate, Surrey – a one of a kind coffee lounge for the entire family to enjoy.
Are you a truffle loving chocoholic? We think you will just adore our many unique chocolatey truffle creations, cakes baked with truffles and other delectable light bites!
Found in the High street in Reigate town centre, the Monty Bojangles Truffle Bar provides a family friendly, relaxed and comfortable atmosphere along with rich and aromatic coffees and varied and distinctive teas.

With so many ways of enjoying our truffles, we simply had to open a Truffle Bar to share them!
We also offer a range of delicious and unique hot and cold indulgent drinks, as well as a wide range of delicious sweet and savoury snacks and light bites to eat in and take away.

Full retail range
Our award winning truffles need not be enjoyed only at the truffle bar itself; we stock a wide range of sharing packs, gift boxes and pouches filled with all 10 of our wonderful flavours. Additionally we stock many seasonal specials such as Easter eggs and Christmas gift boxes, many that are exclusive to the Truffle Bar.

Premium Coffee & Teas
Our Coffee
Our medium roasted coffee is a premium blend of Arabica & Robusta beans with soft cocoa notes and a creamy texture, characterful rich aroma & velvety chocolatey finish.
Selected to perfectly complement our delicious chocolatey truffles
Our Teas
We carry a selection of deliciously refreshing luxury teas from Teapigs to complement perfectly a divinely indulgent truffle moment! Available blends include Earl Grey, Chamomile, Mao Feng Green Tea, Chai & Peppermint leaf.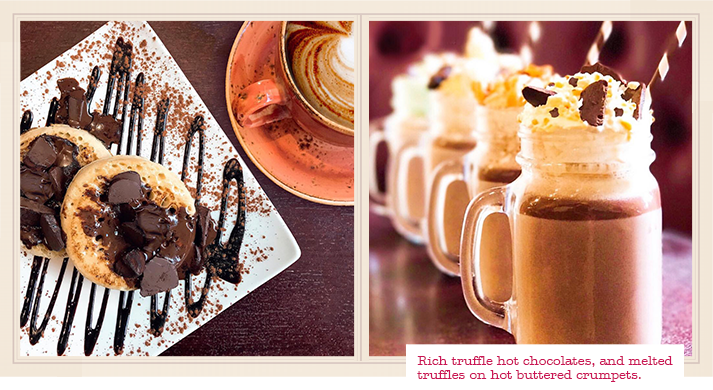 Truffley Hot Chocolates & Speciality drinks
Adding truffles to hot drinks is not just a good idea, it is an incredible idea! We have worked tremendously hard (and eaten many many truffles!) at perfecting the recipes of our Truffle Hot Chocolates and Mochas to make them a significant class above the normal quality and chocolaty-ness of such drinks elsewhere.
Put simply, they are utter chocolatey dynamite! If you are even remotely of the chocoholic persuasion you must sample their rich and creamy delights!
Truffle Mocha
A delicately whipped Cafe Mocha made with our velvety coffee and heavenly melted truffles finished with chocolate truffle shavings.
Truffle Hot Chocolate
The creamiest chocolatey hot chocolate made with melted truffles, and finished with chocolate truffle shavings.
Put simply, these hot creamy drinks are utterly chocolatey dynamite!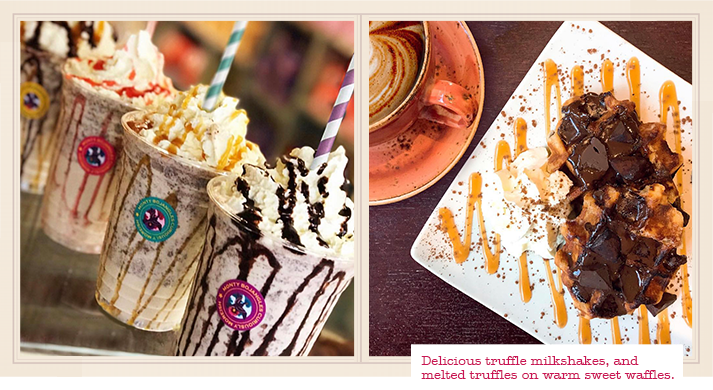 Truffle Milkshakes and other chilled drinks
Make a truly divine, creamy soft and utterly delicious milk shake. Make it refreshing, flavoursome, moreish and irresistible. Use the best ice creams, fresh creams, sauces, flavours and inclusions. Blend it swiftly to keep the shake chilled and textured. Perfect the recipe utterly. Then (and only then), once perfection has been achieved, begin to add truffles, truffles and more truffles.
Perfection is only achieved with the addition of truffles, and more truffles
In addition to these incredible milk shakes we also offer refreshing gourmet Iced Lattes and Truffle Frappes – made with our premium coffee shaken into crushed ice and featuring our delicious chocolatey truffles (naturally!).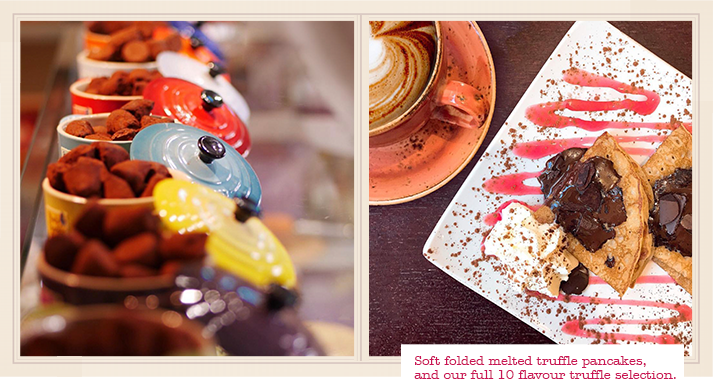 Loyalty cards
We want you all to know that we value loyalty. Nothing pleases us more than seeing our regulars come back for more.
Buy nine of any of our coffee's, and we'll provide you with your tenth on the house along with a six truffle selection that can be selected from the range of delicious truffles available at our Truffle Bar.
Tenth coffee free with 6 complementary truffles!
Things always taste better when they're free! Enjoy this unique and utterly delicious loyalty reward exclusively at the Monty Bojangles Truffle Bar.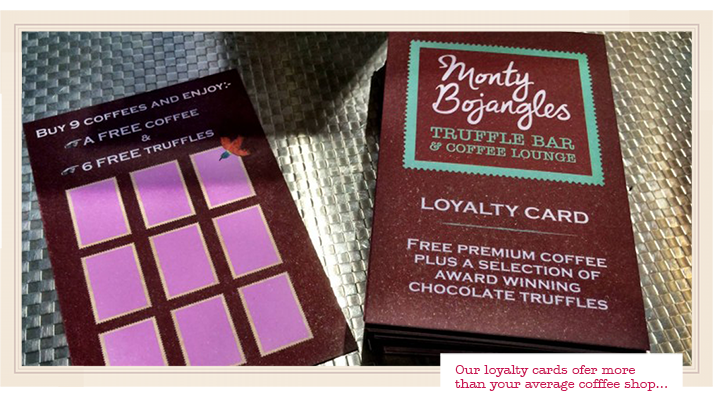 Where can you find us?
We can be found on Reigate High Street just past the M&S. There is Pay and Display parking at either end of the High Street as well as in the local NCP carpark.

Our full address and opening hours
Monty Bojangles Truffle Bar
57 High Street, Reigate, RH2 9AE
Monday to Friday:   7am till 6pm
Saturday:   8:30am till 5:30pm
Sunday:   9:30am till 4:30pm
Bank Holidays:   9:30am till 4:30pm