Sainsbury's Stocks Monty Bojangles
Exciting news…Sainsbury's now stock Monty Bojangles! Truffle HQ have designed an exclusive range for Sainsbury's, featuring the Scrumple Nutty and Choccy Scoffy flavours, and the Taste Adventures variety box! The newly designed packets are perfect for gifts, or an ideal anytime treat.
Take your taste buds on a taste adventure, with the Great Taste Award Winning range. The beautiful boxes, with individually wrapped truffles are perfect for sharing with friends and family, or for keeping the truffles fresher for longer when you want to grab a few as a treat!
You can find these gloriously delectable delights in the Sainsbury' confectionery aisle.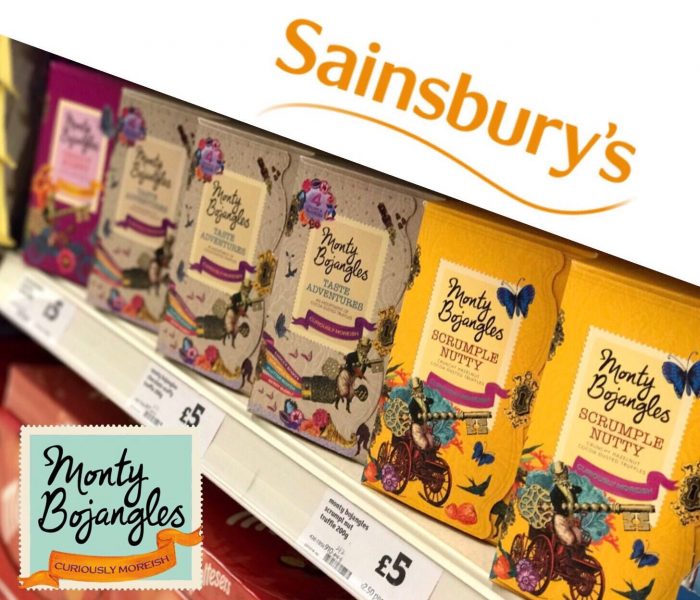 Abbey Wood
Alperton
Alphington Rd
Alton
Altrincham
Amblecote
Apsley Mills
Archer Rd
Arnold
Ashton Moss
Badger Farm
Bagshot Rd
Ballymena
Bamber Bridge
Banbury
Barnstaple
Barnwood
Bath
Beckton
Bishop Auckland
Blackheath
Blackpool
Bolton
Bracknell
Bramingham Park
Brentwood
Bretton
Bridgemead
Bridgend
Bridgwater
Broadcut
Brookwood
Burpham
Burton on Trent
Bury St Edmunds
Bybrook
Calcot
Canley
Cannock
Canterbury
Carlisle
Castle Boulevard
Castle Court
Castle Vale
Castlepoint
Chaddesden
Chafford Hundred
Charlton Riverside
Cheadle
Chester
Chesterfield
Chichester
Chippenham
Chiswick
Christchurch
Cobham
Colchester Ave
Coldhams Lane
Colne
Crayford
Cromwell Rd
Crystal Peaks
Cwmbran
Darlington
Didcot
Dome Roundabout
Dulwich
Dunstable
Durham
East Filton
East Mayne
Edenthorpe
Ellesmere Port
Ely
Emersons Grn
Enfield
Fairfield Park
Farlington
Ferndown
Finchley Rd
Forestside
Fosse Park
Fulham Broadway
Fulham Wharf
Godalming
Halifax
Hampden Park
Hankridge Farm
Harlow
Harrogate
Haverhill
Hayes
Haywards Heath
Hazel Grove
Heaton Newcastle
Heaton Park
Hedge End
Hempstead Valley
Hendon
Hereford
Heyford Hill
High Wycombe
Hinckley
Hornchurch
Horsham
Islington
Keighley
Kempshott
Kempston
Kidderminster
Kiln Lane
Kings Lynn Hardwick
Ladbroke Grove
Larkfield
Lee Grn
Leeds Colton
Leek
Leicester North
Leigh
Lincoln
Locksbottom
London Colney
Longbridge
Longwater
Loughton
Low Hall
Luton
Lyons Farm
Macclesfield
Maidenhead
Maidstone
Mansfield
Marsh Mills
Marshall Lake
Maypole
Mere Grn
Merton
Milton Keynes
Monks Cross
Moortown
Morecambe
Nantwich
New Cross Gate
Newbury
Newbury Park
Newcastle U Lyme
Newhaven Harbour
Newport
Newry
Nine Elms
North Cheam
Oldbury
Oldham
Osmaston Park
Penzance
Pepper Hill
Pinhoe Rd
Pontypridd
Pound Lane
Preston
Purley Way
Queens Rd
Rayleigh Weir
Redditch
Ripon
Romford
Rugby
Rustington
Salford
Scunthorpe
Sedlescombe Rd
Sevenoaks
Sheffield Wadsley Bg
Shorehead
Shrewsbury
Slough Uxbridge Rd
South Ruislip
South Woodford
Southmpton Portswood
Spalding
Springfield
St Albans
St Clares
Stafford
Staines
Stanway
Stevenage
Stoke on Trent
Strand Rd
Stratton
Streatham Common
Stroud
Sudbury
Sunderland
Sunderland North
Sury Basin
Sutton
Swansea
Sydenham
Talbot Heath
Tamworth
Taplow
Team Valley
Telford
Tewkesbury Rd
Thanet Wt Wood Cross
Thornhill
Tonbridge
Torquay
Tottenham
Trowbridge
Truro
Upper Norwood
Upton
Urmston
Wakefield IngsRd
Wandsworth
Warlingham
Warren Heath
Warrington
Washington
Watchmoor Park
Water Lane
Waterlooville
Wednesfield
Weedon Rd
Welwyn Garden City
West Belfast
West Grn
West Hove
West Park Farm
Weymouth
White Rose
Whitechapel
Whitley Bay
Whitstable
Wigan
Winnersh
Winterstoke Rd
Witney
Worle
W'ton St Marks
Back to Blog